Giochi dell'Oca e di percorso
(by Luigi Ciompi & Adrian Seville)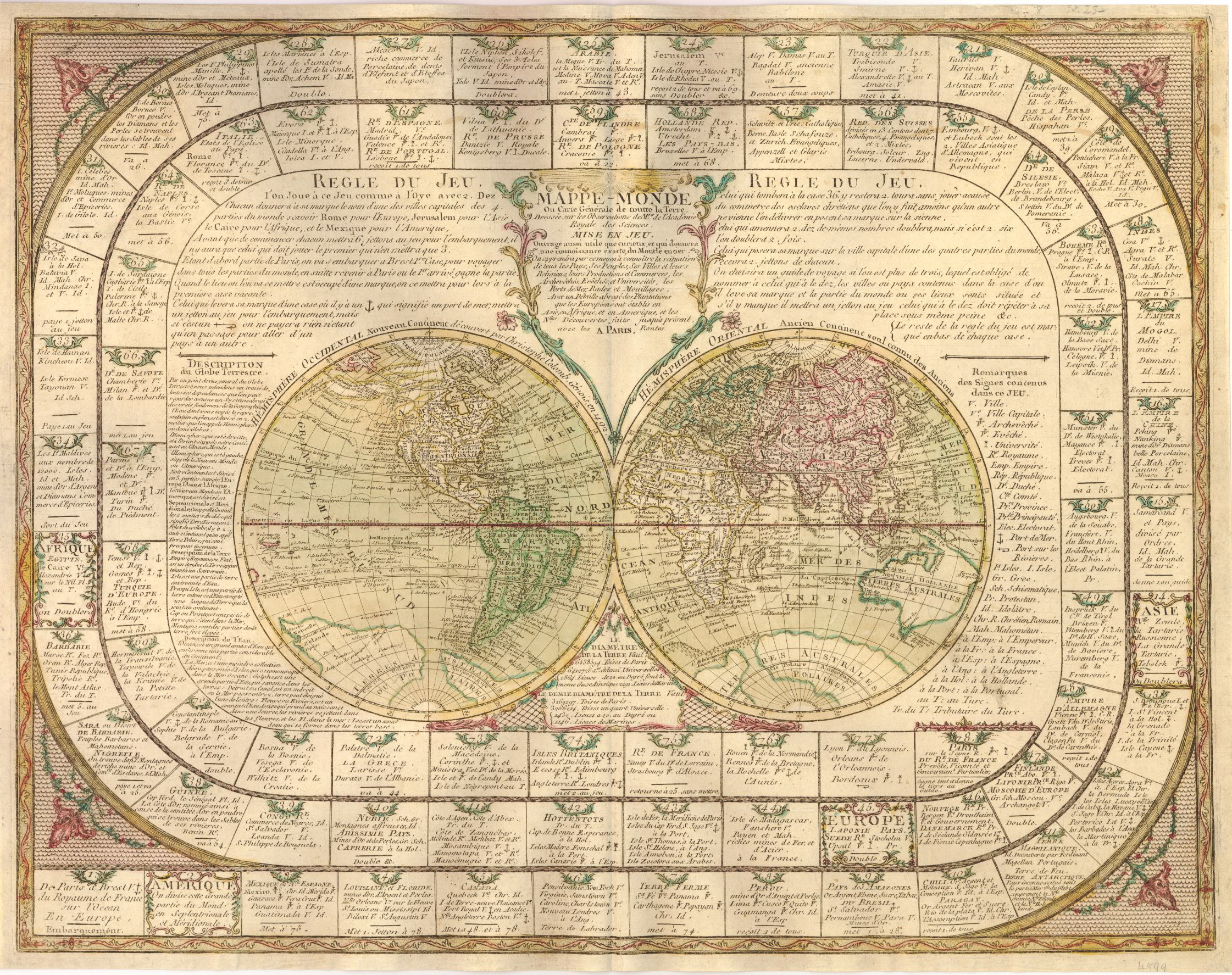 primo autore:
Anonimo
secondo autore:
Crepy
anno:
1768
luogo:
Francia-Parigi
periodo:
XVIII secolo (3°/4)
percorso:
Percorso di 78 caselle numerate
materiale:
carta (paper) (papier)
dimensioni:
432X555
stampa:
Acquaforte (taille-douce) (ecthing)
luogo acquisto:
Donazione Lady C. Schreiber
data acquisto:
dimensioni confezione:
numero caselle:
78
categoria:
Geografia
tipo di gioco:
Gioco di percorso
editore:
Non indicato
stampatore:
Non indicato
proprietario:
British Museum. Donazione Lady Charlotte Schreiber
autore delle foto:
©British Museum
numero di catalogo:
1253
descrizione:
Gioco di 78 caselle numerate, spirale, antiorario, centripeto.
REGOLE: al centro.
CASELLE: con didascalia.

NOTA: Lo schema del gioco è contenuto all'interno del "Dictionnaire des Jeux" (1792), Arch. n°1226.

REFERENZA 1
"British Museum" - AN305592001 © The Trustees of the British Museum 1893, 0331. 112
Title: "Mappe-monde ou Carte Générale de toutte la Terre".
Materials: paper
Techniques: hand-coloured; etching
Production person: Print made by Anonymous
Date: 18thC
Schools /Styles: French
Description: Game board with 78 numbered compartments, each containing place names; two globes and rules and keys in the centre. Hand-coloured etching.
Inscription Content: Lettered with the title in a cartouche, reading "MAPPEMONDE..." and rulesand a key in centre of the board.
Dimensions: Height: 432 millimetres; Width: 555 millimetres
Subject: cartography

REFERENZA 2
(D'Allemagne, pag. 218): "Mappe-Monde ou Carte Générale de Toutte (sic) la Terre. Dressé sur les Observations de M.rs de l'Academie Royale des Sciences. S. l. (probablement Paris, Crepy) v. 1768. Taille-douce 43,5x55. Jeu à 78 cases avec légendes. On part de Brest vers l'Amerique pour arriver à Paris. Au centre les deux hémisphères".


bibliografia:
1) CREPY, Jean Baptiste: "Estampes pour servir à la Récréation de l'Esprit sous la forme du Jeu Royal de l'Oye Renouvelé des Grecs. Pour l'Education des Jeunes Gens de l'un & de l'autre Sexe". Lesquelles se trouvent à Paris chez Crepy, Rue S.t Jacques à S.t Pierre près la Rue de de la Parcheminerie. A. P. D. R. Paris, 1780ca (contiene 26 giochi rilegati).
2) ALLEMAGNE, Henry-René D' : "Le noble jeu de l'oie en France, de 1640 à 1950", Ed. Grund, Parigi 1950.
3) SEVILLE, Adrian: "The Game of Goose: and its influence on cartographical race games". Journal of the International Map Collectors' Society, Winter 2008 N°115 2008.
4) PARLAK, Ömer Fatih: "The Image of the Turk in Early Modern Board Games and Playing Cards". PHD THESIS. Universitat Autonoma de Barcelona, 2019.


Vai alla ricerca giochi Vai all'elenco autori