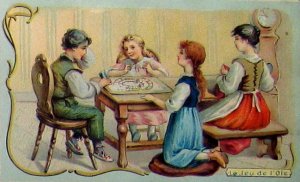 Robert Sayer
Robert Sayer (1725-1794) was a leading publisher and seller of prints, maps and maritime charts in Georgian Britain. He was based near the Golden Buck on Fleet Street in London.
Family
His brother James married the widowed Mary Overton, daughter-in-law of John Overton the printseller. Sayer became her assistant, being called manager of the Golden Buck by 1748, and in this way gradually took over the existing Overton business as a going concern. He moved into atlases and other cartographic works, publishing the Mundane System (1774) of Samuel Dunn and the famous North American Pilot (1775), which included important charts made by the great circumnavigator and explorer Captain James Cook.
Career
Sayer organised the engraving of paintings by some leading artists of the day, most importantly Johan Zoffany RA, and sold prints from the engravings. In this way he helped to secure Zoffany's international reputation. Sayer and the artist became longstanding friends as well as business associates. In 1781 Zoffany painted Robert Sayer in an important 'conversation piece'. The Sayer Family of Richmond depicts Robert Sayer, his son, James, from his first marriage, and his second wife, Alice Longfield (née Tilson). Behind the family group is the substantial villa on Richmond Hill overlooking the River Thames, built for Sayer between 1777 and 1780 to the designs of William Eves, a little known architect and property developer. From 1794, after Robert Sayer's death, the house was the country residence for three years of HRH the Duke of Clarence (later King William IV) and Mrs Jordan, and their three eldest (of ten) children. The third child was born at the house. Having fallen into disrepair, the house was demolished in 1970 when it was unknown that it had been built for Sayer and that it had subsequently been the home of a future king of Great Britain.
Death
On his death, Sayer's business was taken over by Robert Laurie and James Whittle, both of whom had worked for him.

References
1) "Robert Sayer (Biographical details)". The British Museum Collections. Britishmuseum.org. 1920-05-18. Retrieved 2014-04-30.
2) CLAYTON, Timothy: "Overton family". Oxford Dictionary of National Biography (online ed.). Oxford University Press. doi:10.1093/ref:odnb/64997. (Subscription or UK public library membership required.)
3) FISHER, Susanna: "Sayer, Robert". Oxford Dictionary of National Biography (online ed.). Oxford University Press. doi:10.1093/ref:odnb/50893. (Subscription or UK public library membership required.)
4) WILSON, David - ZOFFANY, Johan RA: "The Sayer Family of Richmond: A Masterpiece of Conversation", London, 2014.
(From Wikipedia, the free encyclopedia, 18/03/2017)

Robert Sayer
Robert Sayer (publisher/printer; British; Male; 1725 - 1794)
Also known as Sayer, Robert
Address: On very early prints "near Serjeants Inn, Fleet Street" Golden Buck, opposite Fetter Lane, Fleet Street, London (the old Philip Overton shop and sign) 53 Fleet Street (a few doors east of the Golden Buck; Sayer moved there in 1760, according to Susanna Fisher, but the premises would not have been numbered until c.1766)
Biography
Major publisher, map- and print-seller. The firm traded under a series of names each of which has a separate entry on the Biographical Authority; the name entered in a catalogue entry corresponds with that given on a print.
N.B. Susanna Fisher's study of Robert Sayer and his successors has added much information to earlier sources.
Robert Sayer first advertised prints for sale from the Golden Buck, Fleet Street, in December 1748, having become free of the Stationers' Company by redemption on 6 September of that year. The premises had been that of Philip Overton (d.1745) whose widow Mary (qq.v.) had married Sayer's brother James in January 1747; this probably marks the date at which Robert took over the Overton business at the same address. James Sayer paid Land Tax on the shop until 1751, presumably to help his brother to establish his business. In 1753 Robert Sayer became a liveryman of the Stationers' Company. 16 July 1754 married in Datchworth, Hertfordshire to Dorothy Carlos (or Careless, d.1774); according to the Daily Advertiser, 19 July 1754, she was "an agreeable young lady with a handsome fortune". In 1760 he moved from the Golden Buck to a premises a few doors further east in Fleet Street which was shortly to become no. 53. At various times he took over the stock of Herman Moll, John Senex (probably in 1755 when Senex's widow dispersed his plates; information from Laurence Worms), John Rocque (d.1762), and Thomas Jefferys (bankrupt 1766, died 1771); he probably also took over the stock of Henry Overton II (qq.v.) in the 1760s. By the mid-1760s he was "in a very considerable trade as a print and mapseller and [employing] a great number of workmen to engrave under his directions" (report of the 1784 court case against John Bennett, in S C Cox, Reports of case determined in the High courts of Equity, I, 107). He set up a manufactory for prints, maps and charts in Bolt Court off north side of Fleet Street. In 1768 in Paris with Thomas Jefferys. In 1769 he bought a house on Richmond Green and in 1776 another on Richmond Hill. David Wilson notes (personal communiction, April 2014) that this house was enlarged (in fact, effectively rebuilt) for Sayer between 1777 and 1780 to the designs of William Eves, a little known architect and property developer, and that Robert Mylne (q.v.) probably supervised basic repairs to the house in 1797, and may have added some outbuildings in the early 1790s. Sayer also owned other property in Birmingham. On 8 February 1780, in Richmond (Daily Advertiser, 9 February 1780), he married as his second wife, Alice Longfield, née Tilson, with whom he appears in a painting by Zoffany set in the grounds of the house on Richmond Hill; his son by his first marriage, James, also appears in the painting. Sayer also owned paintings by Stubbs and Kauffman. In1781 his profits were £4,600. From 1774 the business traded as Sayer & Bennett, although the formal partnership with John Bennett (q.v.) began only in 1777; it ended in 1784 when Bennett suffered a mental collapse. Thereafter, until Sayer's death in 1794, the company was named Sayer & Co. or Robert Sayer & Co., probably a reference to his assistants Robert Laurie and James Whittle who would have taken over management when Sayer's health failed in 1792 and he resorted to Bath for much of the time. From1794 until Laurie's retirement in 1812 the business traded as Laurie & Whittle, Sayer having left Robert Laurie and James Whittle a 21-year lease on the shop (at £100 a year) and on the Bolt Court premises, as well as an option to acquire stock and equipment at preferential price of £5,000 payable over three years. Sayer's son, James, was left his personal fortune; although he had been made free of the Stationers' Company by patrimony in 1775 never seems to have been involved in the business. From1812 until his death in1818, Whittle traded with Laurie's son, Richard Holmes Laurie, as Whittle & Laurie. From 1818 the firm was known as R. H. Laurie, even after Laurie's death in 1858. After R. H. Laurie's death the business was acquired from his daughters by his principal engraver Alexander George Findlay, FRGS (1812-75); it was continued by his nephews Daniel and William Kettle. In 1895 the firm moved from 53 Fleet Street to 35 Minories and in 1898 to 41 Great Eastern Street, and in 1904 merged with James Imray & Son and Norie & Wilson to become Imray, Laurie, Norie & Wilson at 156 Minories. Much of the stock was sold at Puttick & Simpson 18 May 1920. In 1939, the firm moved to Wych House, St Ives, Huntingdonshire where it remains in business specialising in yachting charts (2001). In the Guildhall Library is a watercolour by J Findlay of 53 Fleet Street c.1840 with the name Laurie over the door. Bill-heads in Heal Collection. Heal,100.64 states "Bought of R.Sayer & J Bennett, Map, Chart & Printsellers No.53 Fleet Street. Where Gentlemen for Furniture, Merchants for Exportation, and Shopkeepers to Sell again, will find a great Assortment and on the most reasonable Terms." The bill is dated "London 18th June '83." Heal's annotations on mount similar to above information. Heal,100.65-67 are manuscript bill-heads stating "Bought of Mr. Sayer late Overton...". These also include Heal's annotations on the mounts which are similar to the above information.

Bibliography
1) RUSSEL, K. F.: "John Tinney's Compendium Anatomicum and its Publishers", in Medical History, 1974, vol. XVIII, pp. 174-186.
2) PEDLEY, Mary: "The Map Collector", 1982, pp.20 -22, on Jeffreys and Sayer in Paris in 1768.
3) HODSON, D.: "County Atlases of the British Isles", II, 1989, pp. 186-189.
4) O'CONNELL, S.: "The Popular Print in England 1550-1850", 1999, p. 51.
5) FISHER, Susanna: "The Makers of the Blueback Charts: a history of Imray, Laurie, Norie & Wilson", 2001.
6) WILSON, D. - ZOFFANY, Johan RA: "The Sayer Family of Richmond: A Masterpiece of Conversation", 2014.